Request Buttons for saunas – Technico Request Buttons
The request button "SaunaSwitch" allows the sauna user to start various functions himself. Our buttons and their covers fit harmoniously into the overall picture of each system.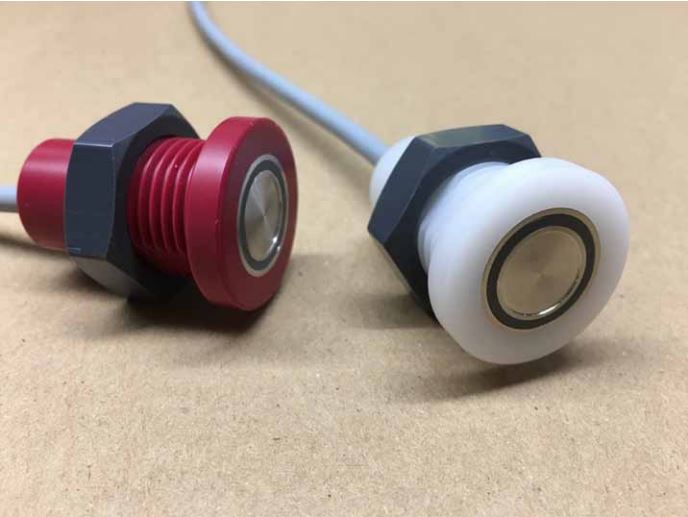 In order for the spa user to be able to start various functions in the wellness and spa facility himself, he needs request buttons. Our buttons, together with the covers, fit harmoniously into the overall picture of each system. The SteelSwitch request buttons are based on piezo technology. They are vandal-proof and waterproof encapsulated, IP67. The probe in the middle of the button is made of brushed stainless steel. The case is available in two different colours (white and red). Green LED ring lighting is integrated in the stainless steel touch surface. This can be controlled function-related. The white request button SteelSwitch fits color into any area of a wellness and spa facility and can be used for any function call. The SteelSwitch red request button is designed for use as an alarm or emergency button. Of course, it can be applied – just like the white one – to any function call.
For our request buttons we offer the stainless steel cover "Steel", with matching holes. The covers are partly available for up to 3 call buttons, on request with black engraved function designation.
The SteelSwitch and Steel covers can be used in all common wellness and spa areas: from the experience shower, the rhassoul and steam bath to the solein inhalation room.
However, the SteelSwitch button may not be used in a sauna. For this area we offer especially the button "SaunaSwitch".
Beschreibung
Bei unserem SaunaSwitch handelt es sich um einen bruchfesten Abruftaster ohne Beleuchtung. Dieser ist spritzwassergeeignet (IP44). Den SaunaSwitch bieten wir in den beiden Farben weiss und rot an. Abruftaster und Rahmen sind gleichfarbig und bilden eine Einheit. Der Rotfarbene ist als Alarmtaster einsetzbar. Er ist nicht geeignet für die Not-Aus-Funktion.
Einsatzgebiet
Für folgende Einsatzgebiete ist der Taster geeignet:
Abruftaster ist geeignet für den Einsatz in der Sauna.
Der SaunaSwitch Abruftaster ist NICHT geeignet für Anwendungen mit fließendem Wasser und Wasserdampf wie Duschen, Dampfbäder, Rhassoul, etc.
High-quality request buttons: durable, reliable and waterproof
Easy to install, maintain and replace
The SteelSwitch request buttons are suitable for almost all areas of application in spa and wellness facilities, with the exception of the high-temperature area in the sauna, for which we have developed the SaunaSwitch request button.
Our request buttons are characterised by:
Durability
Reliability
Economic efficiency
Solid construction
Simple and quick installation - plug and play
Low energy consumption
Developed in-house
Manufactured in our own production facility
Fast help and support from an experienced team in case of technical difficulties or problems
Request buttons can also be used with older systems, they are backwards compatible.
Worldwide shipping