Fragrance dosing systems – Technico Dosing Systems
Always the appropriate dose
Kemitron manufactures fragrance dosing systems, by which steam baths, experience showers and whirlpools can be fragranced. Thereby fragrance, intensity and interval are individually adjustable.
The dosing pump and dosing systems are high-quality and durable. Many years of experience in manufacturing, operation, installation and maintenance allow us to advise you competent in installation and selection of fragrance for the appropriate application.
Description
Our fragrance dosing pump with bellows technology for use in steam bath, rhassoul (mud bath), experience showers and sauna. In order to distribute the fragrant scent, the fragrance solution dissolves in the steam steam in the steam bath or rhassoul, in the experience shower the fragrance solution mixes with the shower water and in the sauna with the infusion water.
The bellows dosing pump comes in a closed, splashproof plastic housing. It is driven by an eccentric gear motor.
Program Standard.Arom Start
The fragrance dosing pump receives the 230V AC mains voltage via a steam bath, shower or sauna infusion control. As soon as the mains voltage is applied, the fragrance dosing pump begins with the dosing. If the mains voltage drops, the pump stops.
The dosing volume of 15.65 ml/min is not adjustable.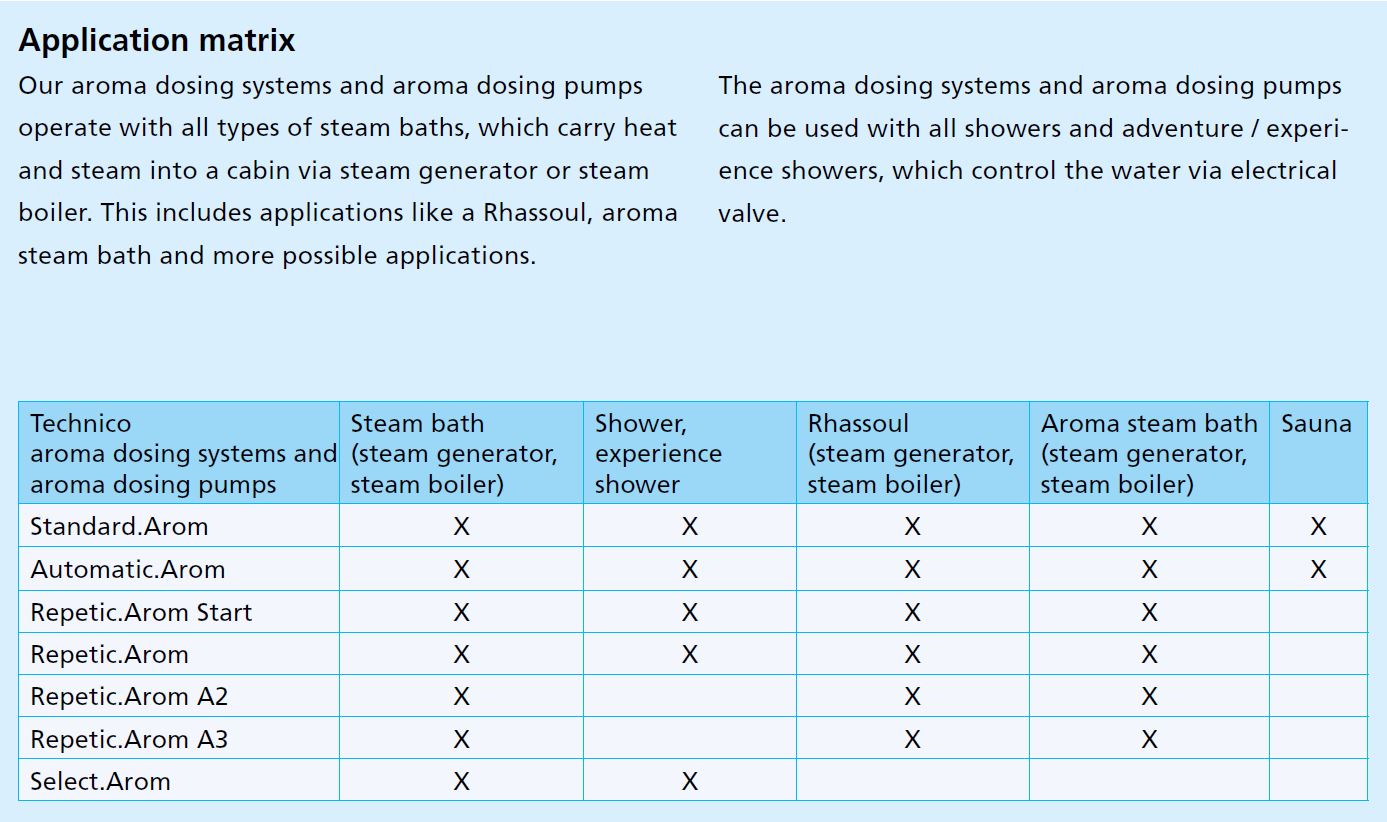 Advantages of Technico dosing pumps and systems
Fragrances are used efficiently and sustainably: can accurately dispense as little as 0.5 ml
Fragrance dosing quantity and interval can be adjusted individually
Overdosing, which can lead to allergic reactions, for example, is almost impossible
Pumps operate at a pressure of 4 bar, i.e. they do not have to be installed directly at the injection point, but can - depending on requirements - even be installed one floor lower or a few rooms further away
Flexible fragrance installation
Can be easily reached, e.g. for maintenance purposes
120 and 230 V AC available
Are designed for a long service life. This means that all parts and materials have been thoroughly tested and are only replaced if others have shown better properties and durability in long-term tests.
The bellows metering element, as the heart of the pump, has no leakage, is extremely durable, maintenance-free and resistant to all essential oils and alcohols as well as to emulsions.
Key elements of the pump are designed so that connection points are always backwards compatible