Experience shower systems – Technico Shower & Nozzles
Feel and experience tropical, summer, drizzle and other types of rain, this is possible with an experience shower, Our nozzles ensure the right droplet size and the associated system for the perfect experience.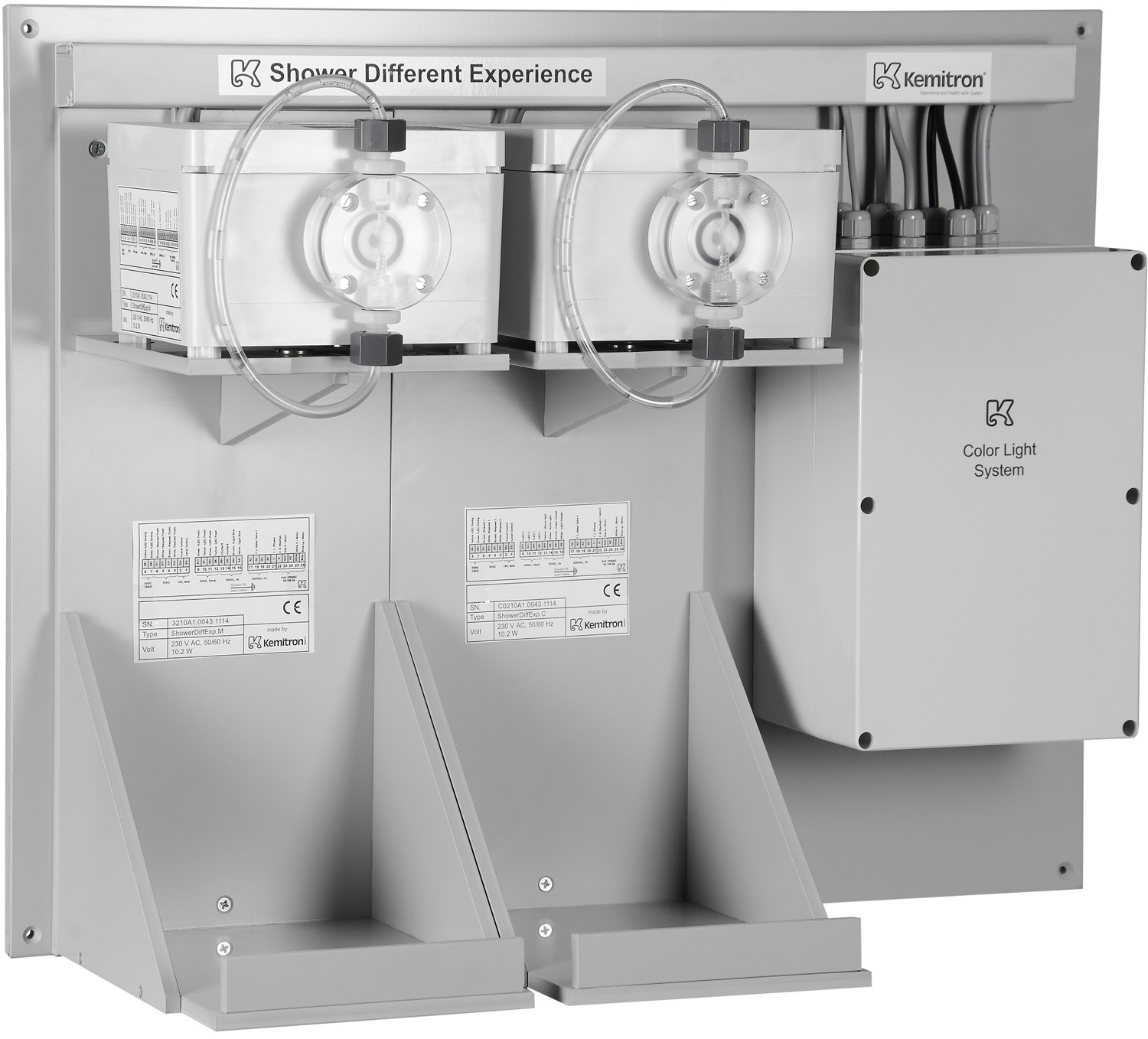 Perfectly controlled experiences
An experience shower offers the visitor a predetermined experience that appeals to and activates all the senses. The guest selects one of the offered experiences – e.g. a tropical storm or coastal fog (see also box on the right). By means of different shower strengths and temperatures, colored light (possibly with flash light), matching fragrance and optionally even sound, the user is sent on a fantasy journey. Sprinkles of varying intensity constantly give the skin new impulses and a relaxing massage. Scents play a decisive role at this point, because the sense of smell is directly connected to the brain and activates experiences and emotions there. Changing colour light stimulates the visual sensation. Sounds such as birdsong or thunderstorms can also be recorded. All elements are coordinated via the control technology that Kemitron offers as a package.
Feel and experience tropical, summer, drizzle and other types of rain – with jets from Kemitron. Our nozzles are available for different rain experiences, just ask us!
Experience showers
There is a wide range of showers: cold waterfalls, fog, body jets and dramatic emotional showers – all offering experiences for many senses. Scents, sounds and visual effects are combined and take the user to other worlds.
The control unit, shower canopy (shower ceiling) and water distributor are available in different versions.
Despite the standardisation, these offer a surprising amount of variety - different water activities, from cold mist to tropical rain, complemented by three different colour light games and two sophisticated fragrances.
The Shower AttractionPanel (shower canopy, shower ceiling) can be produced in various shapes, e.g. round, rectangular, or similar. This stable, self-supporting plastic hard foam canopy is available in widths up to 120 cm. - Built-in rain nozzles, colour and room light kits are already completely installed ready for connection.
Room and cleaning light, coloured lights and colour therapy as well as flash and thunder can be controlled.
The Shower PipePanel: From the water connection for hot and cold water to the water distributor with stopcocks and built-in solenoid valves, everything is supplied, including a threaded insert for the fragrance dosing valves. The pipe outlet is ready for connection, all components are on a wall mounting plate. Pressure reducer and fixed-value mixer are included in the scope of delivery.
Various rain experiences and intensities, as well as water temperature and running time, can be set individually.
Fragrances matching the theme and fragrance intensity per fragrance can be set according to the customer's wishes, thus supporting aromatherapy. The interval time to the next fragrance can also be regulated.
Different rain program themes can be called up.
Different sounds can be assigned to different programs and controlled via the same sound system, and the volume can be regulated.
A legionella program can be ordered as an option.
The pressure for hot and cold water can be regulated
Experience shower systems available for 120 and 230 V AC
The experience shower system includes the various Kneipp water treatments up to the hot-cold alternating water jets.
A powerful protective circuit prevents damage in the event of technical defects.
The themes of the experience shower can be set and combined according to the customer's wishes and replicate different sounds, smells and feelings. - Even sea spray or fog can be produced, as well as a mountain stream, tropical storm or seaside environment.
Several showers can be controlled and regulated individually and in parallel via our Shower System controls.