Hamam systems – Technico Hamam
It takes many years for professional "foamers" to be able to foam the soap properly for a hammam application. This is faster with our Compact Foamer foaming device. The desired foam quantity and intensity, as well as the interval for the next foaming or rinsing are individually adjustable.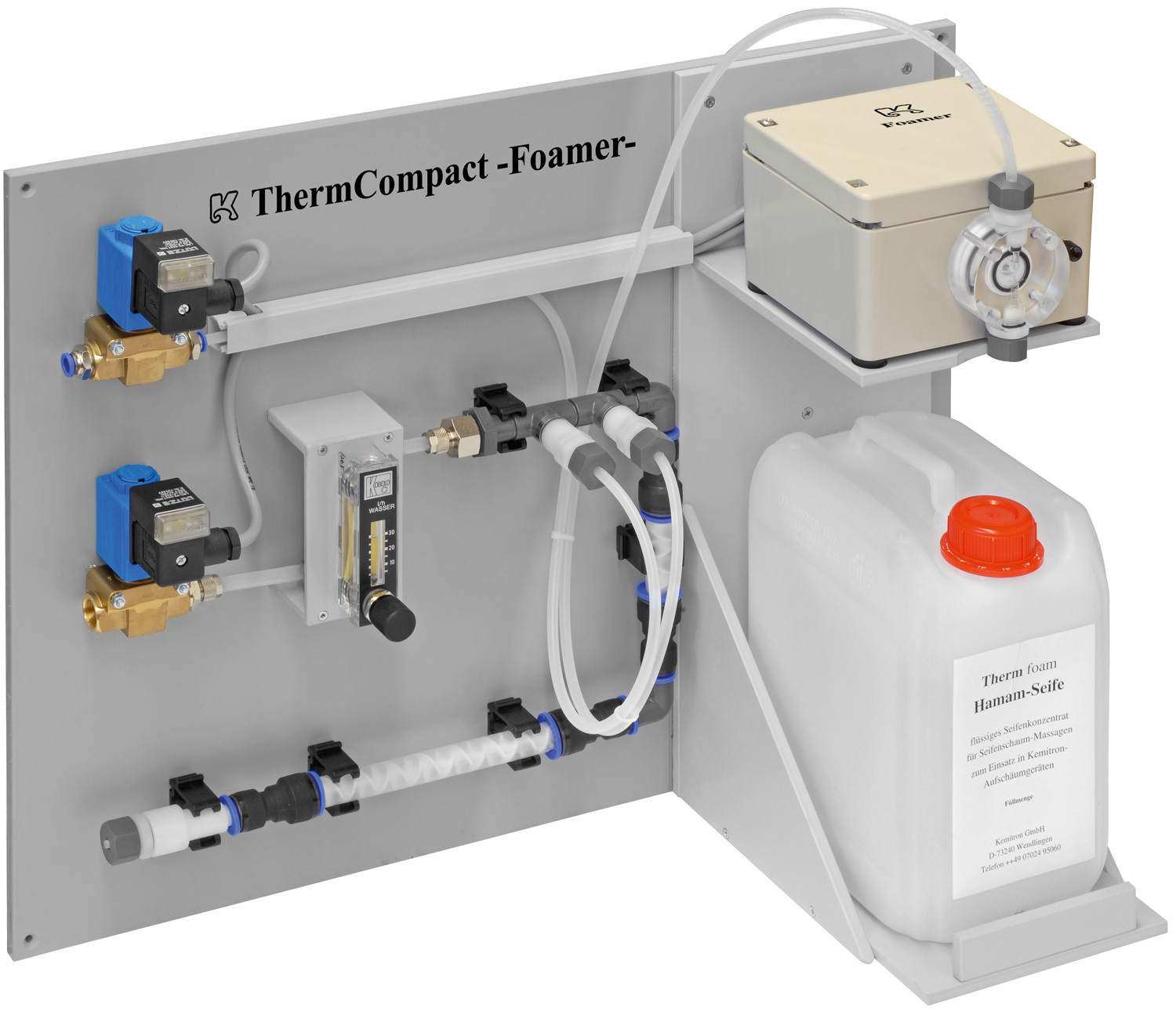 Kemitron provides a creamy- fine-pored massage foam with the Technico Compact Foamer, a sophisticated soap foaming device. After the steam bath, a hammam brush soap massage, Thai massage or other techniques are often desired – the foam massage is gaining more and more friends.
A hammam is also known as a "Turkish bath" or "Moroccan hammam" and refers to a steam bath that is usually larger than the one we know. The Turkish baths have as a center a traditionally heated "göbek tasi" (literally translated, a "belly stone"). A smaller copy of this is located in an adjoining room and allows visitors to receive a private soap massage.
Heated floors, walls and benches warm the room to 40 – 42 °C, with (possible, but not mandatory) 40 – 60 % humidity from an independent steam source. An authentic environment is created by traditional Turkish tiles "Iznik" in combination carrara marble. However, modern hamams today have all kinds of surfaces.
The hamam foam device allows masseurs who have not received special training in hamam foaming to be used for foam massage.
The desired foam quantity and intensity as well as the interval to the next foaming or rinsing can be adjusted individually.
Compressed air support enables the formation of very stable foam.
The air and water pressure are individually adjustable.
A constant dosing quantity can be expected over the entire service life.
The system is easy to operate.
The system can be flushed at the push of a button.
The foam line can be over 5 m long, so the system does not have to be directly attached to the masseur.