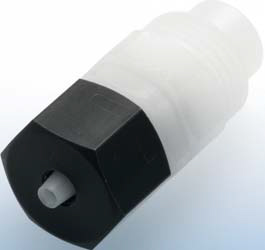 Technico Injection Valve 1/2″ K
Available, delivery time: 2-5 days
Description
Technico Injection Valve 1/2″ K
We offer our injection valve with European inch thread for all countries.
An injection valve is used with pipes, which are under pressure, i.e. water pipes. It can also be usted in steam pipes. Our injection valves consist of material that is highly resistant to chemicals and high temperatures. They are highly suitable for the use of fragrances and maintenance-free for the use with Kemitron fragrances.
The injecting valves are installed in the pipe with a T-piece.
Note: Since using an open end wrench or similar tool causes damages to the cap nut and the injecting valve, the cap nut at the injection valve must only be tightened by hand.
Lieferumfang:
1 x Technico Injection Valve 1/2″ K