Differentiation between hygiene, cleaning, disinfection
By hygiene we mean all measures and behaviour that prevent the transmission of pathogens.
Cleaning is the removal of visible pollution and contamination as well as invisible organic material, which prevents the reproduction of microorganisms.
Disinfection we call the killing or inactivation of pathogens of any kind, to prevent infections.
Correct surface disinfection
Since there are pathogens that survive on surfaces for months and then can still be transmitted to humans, surface disinfection as an infection prophylaxis is an important measure to prevent exactly this.
For a functioning prophylaxis the surfaces must be disinfected routinely, i.e. continuously, e.g. according to a cleaning schedule. In case of the occurrence of specific pathogens or after obvious contamination, a surface is disinfected in a targeted manner.
The following areas should be disinfected continuously:
Surfaces with frequent hand or skin contact (door handles, handrails, keyboards, etc.). In case of infection, it should be considered to keep doors open with a wedge if possible.
Surfaces in communal sanitary areas (toilets, bathtubs, showers, washbasins, etc.)
Work surfaces
Floors
In hygienically sensitive areas or where infections occur, the surfaces and floors should be smooth, wipeable, joint-tight and disinfectable. Textile floor coverings are difficult to disinfect and should therefore not be laid in places where regular disinfection is required.
In general, the following should be considered when disinfecting surfaces:
The surface must always be wiped with a sufficient amount of disinfectant under light pressure.
Always follow the instructions of the manufacturer of the surface disinfectant used!
Suitable safety gloves protect you from infections and are kind to the skin.
After the routine disinfection of surfaces such as floors, the surface can be used again or walked on as soon as it is visibly dry – regardless of the exposure time. The disinfecting effect is still given.
In some situations, however, the specified exposure time must be waited before the surface is used again for safety reasons, e.g:
When disinfecting during an outbreak, i.e. during an epedemic/pandemic (formerly: plague).
For the disinfection of (whirl) baths and washbasins, as the disinfection is terminated by the inflow of water
For the targeted disinfection of contaminated surfaces
When disinfecting surfaces that come into contact with food and must be rinsed with drinking water before reuse
We recommend for surfaces: Kemitron Pure Desino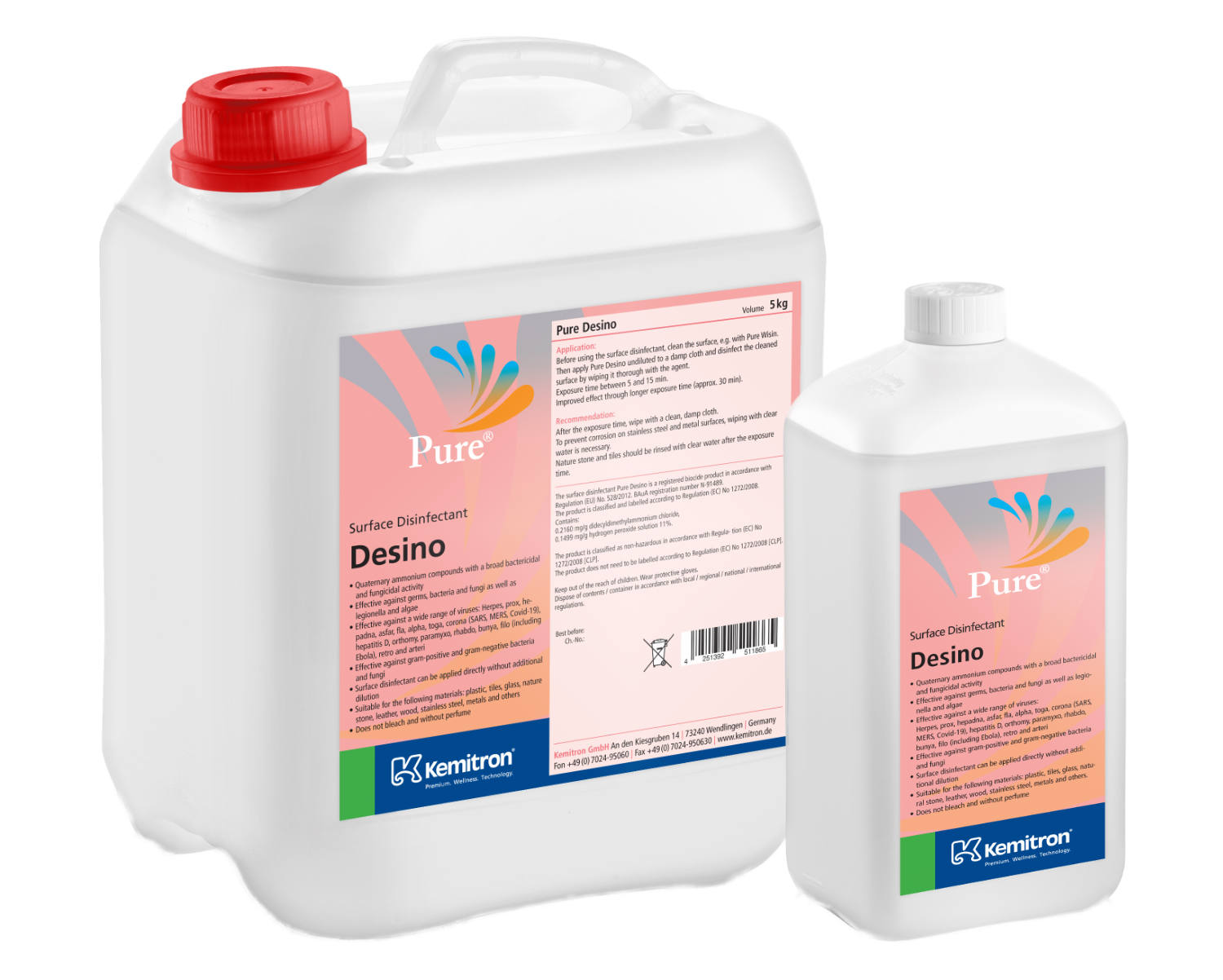 Pure Desino, offers you safe protection on all surfaces. Because it is not only effective against the corona virus (COVID-19), it also protects against many other viruses, such as: Herpes-, Prox-, Hepadna-, Asfar-, Fla-, Alpha-, Toga-, further Corona- (SARS, MERS), Hepatitis D, Orthomy-, Paramyxo-, Rhabdo-, Bunya-, Filo- (among others Ebola), Retro- and Arteri.
It is also microbiologically tested and is effective against bacteria, fungi, legionella and algae. It has the biocide approval – necessary for all disinfectants.
It can be used as a disinfectant over a large area on various surfaces, such as plastic, tiles, glass, natural stone, leather, wood, stainless steel, metals, etc. and is therefore suitable for almost every business and recreational area.
We recommend thorough and regular surface disinfection as an important measure to prevent infections! Please ask us or the responsible authorities for more information.
Pure Desino has a PH value of 4.5, it does not bleach and is fragrance-free.
Desino and other disinfectants are available here:
https://www.kemitron.com/spa-products/cleaner/disinfectant/